Camp Celo Helpers
The deadline for 2018 Helper Applications has passed. You may still apply if you would like to be on our waiting list. However, we have already received many more applications than spaces available.
Celo helpers are a group of young people 15-18 years old, for whom the experience of camp means so much that they are willing to come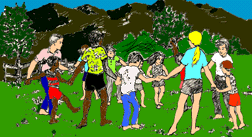 and help in exchange for the privilege of being part of the Celo family.

Celo helpers assist in the kitchen with meal preparations and clean-up and also assist the counselors with camper activities and at bedtime. Helpers are not expected to lead a group of campers alone.

Being a helper is a full time job. You will generally have 2 to 3 kitchen jobs each day. At other times you are expected to join in the camper activities or games or help with work projects on the farm or in the garden. You should come prepared to work hard. Most helpers work in exchange for the opportunity to be at Celo. There are a few paid positions for experienced helpers.

The day's work begins at 7:30 am with wake-up and ends after the children's bedtime and evening sing at about 10:00 pm. You will have one hour off each day and one day off each week. Your day off ends at the children's bedtime.

Over the course of the summer we develop a strong sense of teamwork and community within the helper group. In order to encourage this we need a core group of experienced helpers who can stay all summer. For first time helpers it is often best to just come for one or two sessions to get a feel for the job. It is also important to come for the pre-camp orientation. The application deadline is February 15th. Final decisions on applicants will be made in mid-March.

Lifeguard training is a valuable skill at camp and $250 is paid to those who have this certification and stay all summer.

Helpers should have had two summers away from Celo since attending as a second-year senior camper. Those that were not campers must have turned 15 before June 1st.

Camp Celo New Helper Application Form

Camp Celo Returning Helper Application Form