The Camp Celo Program
Gib and Annie Barrus and Barbara Barrus Perrin share the leadership of Camp Celo.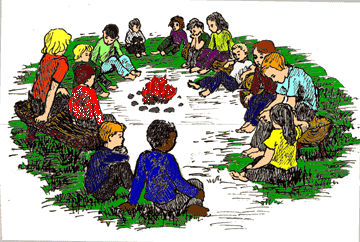 Our family has been operating camp since 1955. Gib and Barb have been involved with the camp most of their lives. Gib and Annie are residents on the farm homestead year 'round. Barb manages the winter office from her home nearby. Our parents, Bob and Dot, retired in 1989 but live close to the camp. We have all had training and experience in teaching and camping and Annie is a family nurse practitioner.

We are members of the Society of Friends (Quakers). The Camp Celo program is born out of the Quaker values of nonviolence, simplicity, and environmental awareness. Our central belief is that the Light of God exists in each person.

Our counselors are carefully chosen for their maturity, their love of children and their understanding of our methods and philosophy. The high ratio of staff to children makes for the kind of close relationships we value. We limit the size of our groups so we can relate directly to each child. Many campers return year after year.